With technology changing the way people do business, it's becoming more clear to executives and operating managers to have managed VoIP phone support services. A VoIP phone system eliminates the need for on-premise equipment; however, VoIP desk phones that are custom configured can be used with older equipment.
For those who are working with traditional on-site phone systems and looking for a better way to manage their business communications in the cloud, a managed service provider is the way to go. Older technology from traditional phone lines has its limitations due to the inability to upgrade with new hardware and software.
To learn more about choosing the right managed IT company for your VoIP phone system and the benefits for your business, keep reading.
What Are Managed VoIP Phone Support Services?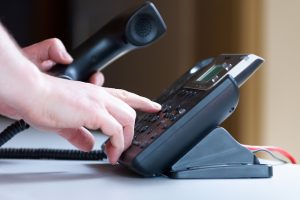 Managed VoIP phone support services are what everyone needs who is running a business today. They give you the control and support of an on-site phone system combined with the flexibility and management of cloud hosting. With managed VoIP solutions, you get expert help from an IT specialist and on-site troubleshooting.
Choosing the right VoIP phone system is just as important as the IT company you select to manage your business communications. To better understand why managed VoIP business phones are a benefit, we must learn more about them.
Below are three questions that can help you understand more about the best VoIP technology and managed IT companies:
1. What Are PBX Phone Systems?
Private branch exchange (PBX) systems are known as closed, private telephone networks that are used for internal, incoming and outgoing business calls. Another term commonly used is the internet protocol (IP) PBX. It works on phone calls over a virtual private network (VPN) or a private internet network.
PBX phone systems can also be coined as a term for VoIP because it allows users to operate on different communication channels like traditional landlines, VOIP, and other channels.
2. What is UCaaS?
Unified communications as a service (UCaaS) refers to cloud-based platforms that unifies audio and video conferences, file sharing, web meetings, phone call, and other activities. One of the biggest perks of UCaaS is that it can be used with VoIP.
Since UCaaS works on the cloud, it provides a better way to conduct business on a domestic and global level. UCaaS offers users remote access to system files and communications as well as being able to collaborate as team regardless of location.
3. What is SIP Trunking?
Session initiation protocol (SIP) and trunking is a method that is used to convert an existing PBX system into a cloud-based office phone system. An SIP trunking phone system can be accessed from any location in the world and comes with your managed service provider.
With that said, a SIP trunking system expands your server base as it's not restricted to on-site PBX phone systems. Many business owners find that marrying a PBX with the best VoIP technology provides extended cloud-based benefits such as scalability and flexibility to reach a broader audience with more cost effective phone services.
While the above three questions answer the differences between phone systems, implementing a VoIP phone system that comes managed by technical and IT support comes with more extended advantages that are only available on VoIP phone and cloud-based systems.
Why is it Important to Choose the Right Managed IT Company?
When it comes to choosing the right managed IT company, there are many things to consider. Firstly, are they responsive to your inquiries? Secondly, do they take an interest in the best services that work with your existing phone systems? And lastly, do they provie an a personal IT manager or team for your business?
If you can answer yes to the above questions, then you can rest assured they are a reputable IT company. Moreover, they should also be willing to show you the ropes and how the phone system works and guide you through the changeover to cloud-based communications.
Additionally, they should have a proven track record in the IT industry and guarantee to keep your business and client data safe and secure with the latest firewalls and cybersecuyrity protection software applications while allowing your company to operate without a loss of business or interruptions in communications.
Here are some key benefits from choosing the right managed VoIP solutions for phone systems:
Better call quality by using a digital voice signal.
Cost-savings on phone bills due to more affordable cloud communications.
Connectivity while you are out of the office and extended lines for employees.
A better way to scale your current phone system if upgrades are needed.
The ability to integrate your current system with the latest in VoIP technology.
Below are some of the services that managed VoIP phone support services provide:
Expert consulting
Network troubleshooting
Capacity planning
Account analytics
Network issue resolution
System maintenance
Infrastructure setup
Network optimization
Features management
Account permissions
Network monitoring
You can get advanced or basic VoIP phone service, depending on your company goals, size, types, and business requirements. In the end, your business can benefit from implementing a UCaaS and VoIP phone system. These managed IT phone systems are good for any company regardless of whether you own a small or large business.
Where to Get Managed VoIP Phone Support Services?
While there are a myriad of managed VoIP phone support services in business today, choosing the right one is as easy as going to Review VoIP. We provide high-quality reviews of the best VoIP technology and IT managed companies that are leading pioneers in today's cloud-based communications.
For more information about our services and VoIP managed companies we list on our website, fill out our contact form or call us today. When you have managed VoIP phone support services for your business, you have a competitive edge over your competitors that are still using older communication equipment and devices.
In the end, a professional managed service provider for VoIP phone systems should be part of your team and help your company grow.